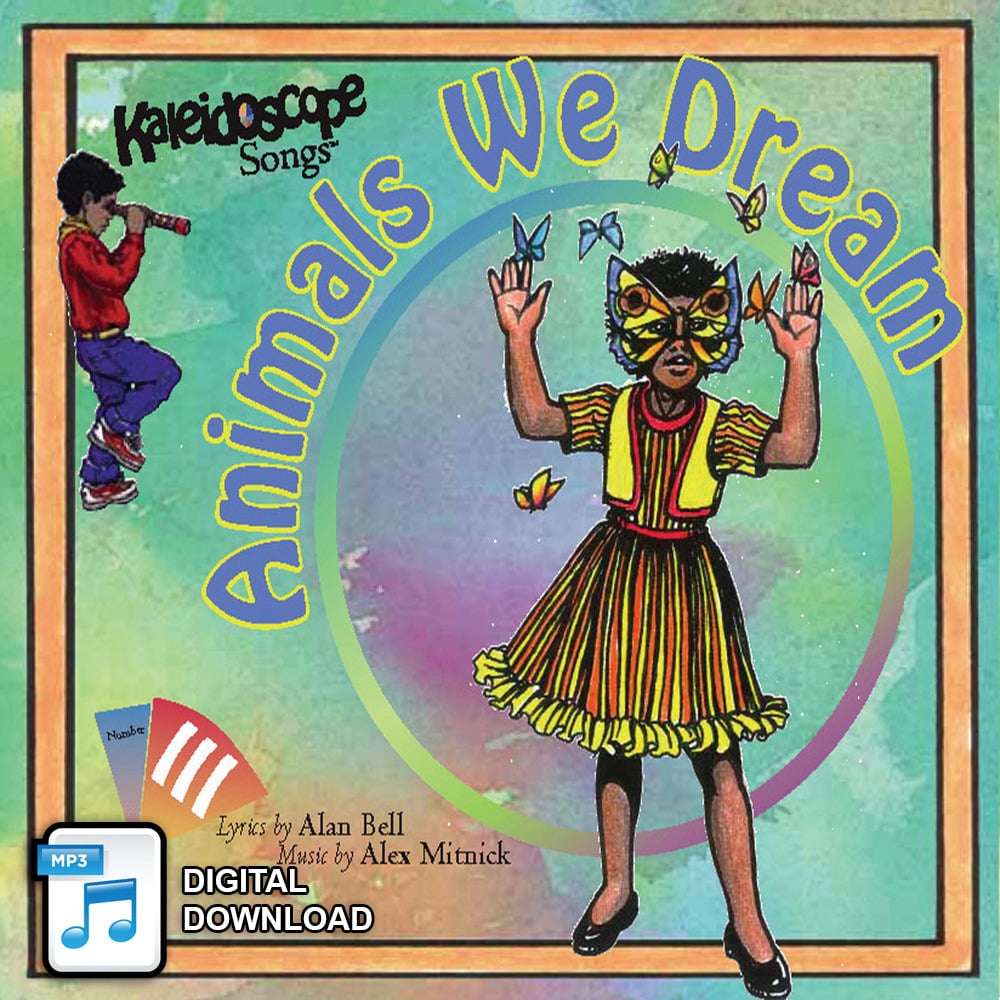 Kaleidoscope Songs: Animals We Dream (Digital Download)
$

10.00
---
---
The third album released in 2008 from Alex Mitnick (Music) and Alan Bell (Lyrics).
"A myriad of multicultural rhythms and instruments highlight a peaceful safari to the animal kingdom that educates and informs in an engaging way." John Wood, Kidzmusic.com
WINNER Coalition For Quality Children's Media KIDS FIRST! AWARD
WINNER Independent Music Awards BEST SONG FOR CHILDREN for "Kangaroo!"
Alex Mitnick & Alan Bell are revolutionizing music and entertainment for children…contagious rhythms and lyrics that take grab of your heart and soul and don't let go!
With two AWARD-WINNING albums to date, Alan Bell (lyrics) & Alex Mitnick (music) are thrilled to finally release their long awaited third GROUND BREAKING collaboration of ORIGINAL MUSIC & WORDS for children. Kaleidoscope Songs III: Animals We Dream opens with The Forest Of Our Minds, a celebration of NATURE and the beginning of an amazing JOURNEY across the globe into the WILD and WONDERFUL world of NINE FANTASTIC ANIMALS.
Within seconds listeners are brought to their feet by the infectious GROOVE of the drums, bass and DIDGERIDOO as we BOUNCE and JUMP to Kangaroo! What FUN! Next it's 1-2-3-SNAP!!! as we head South to the CAJUN inspired SWAMP FUNK BANJO and ACCORDION of Crocodile.We barely catch our breath before a Butterfly sweeps us away with it's GORGEOUS VIOLIN, VIOLA, AND CELLO arrangement transporting us to a MAGICAL place where FLOWERS bloom and sweet NECTAR fills the air... Ahhh.
As the MOON rises we see Monkeys In The Moonlight DANCING in the grass. GO! STOP! Little Grey Mouse runs across the floor dancing to this TECHNO track and slips out the door - yikes!!! Ever wonder what a Camel sounds like? The BOUZOUKI, an Egyptian Lute, will leave you MESMERIZED by the sounds of the DESERT LAND.Off we go to WEST AFRICA where the Great Grey Elephant sways to the DRUMS and the MAGIC of the BALLAPHONE - one of the GREATEST SOUNDS ever heard.
DANCER of the WAVES and FRIEND of LIFE - fly with the Dolphins through the sea. From the FOREST to the DESERT to the OCEAN deep, the Hummingbird brings us back to the Campfire, under the stars, SAFE in the NIGHT surrounded by the TREES, the ROCKS, and our FRIENDS and FAMILY all cozy and warm. Finally, we return from our journey as The River returns to the sea. WOW!! What an ADVENTURE!
1. The Forest Of Our Minds
2. Kangaroo!
3. Crocodile
4. Butterfly
5. Monkeys In The Moonlight
6. Little Grey Mouse
7. Camel
8. Great Grey Elephant
9. Dolphin
10. Hummingbird
11. This Tree
12. Campfire
13. Night Is Here
14. The River